Plastic forming is a method of designing, manufacturing, and assembling a product that is made from plastic. Plastic material is used in various ways in our daily life, and the plastic industry is growing daily. According to experts, plastic production may continue to grow and reach 540 million metric tons by 2040. Read More…
Plastic Forming
Plastic forming is a group of manufacturing procedures that takes thermoplastics and forms them through molding processes into a wide variety of plastic products for numerous industrial, commercial and domestic applications.
Plastic forming is a method of designing, manufacturing, and assembling a product that is made from plastic. Plastic material is used in various ways in our daily life, and the plastic industry is growing daily. According to experts, plastic production may continue to grow and reach 540 million metric tons by 2040. The plastic industry has taken over our kitchens, wardrobes, electronics, and more. Plastic is used in consumer goods, electronics, toys, kitchen appliances, and electrical and industrial machinery.
Properties of Plastic
Plastics are lightweight and can be molded easily into any shape and size.
They are chemically stable, with good rust resistance.
Plastic has good insulation and low thermal conductivity.
Plastic is transparent and has poor dimensional stability.
Plastic material is low–cost and easy to process.
Types of Plastic
There are two types of plastic. These are:
Thermosetting Plastic

Thermosetting plastic, also called thermosets, is plastic that does not undergo any changes in shape once heated and molded. These plastics degrade, deter, and are destroyed on reheating. Common examples are epoxy resin, rubber, polyurethane, etc.

Thermoplastic

Thermoplastic does not change its chemical composition and can be remolded multiple times. Common examples are polystyrene, Teflon, acrylic, and nylon.
Manufacturing Process of Plastic
Plastic forming involves many different processes, and each depends on the type of product and the plastic used. The manufacturing process consists of the following steps:
Plastic Injection Molding
This method uses a mold made of aluminum or steel.
The mold, consisting of a core and an inner cavity, is placed in the machine.
The heated plastic pallets are injected into the molds and then cooled.
About 80% of plastic items that we use in our daily life are made by this process.
It is a low-cost process that gives an excellent finish, and millions of the same products can be made rapidly.
Molds can be expensive, so proper engineering and cleaning are required to prevent mold defects.
Rotational Molding
In this process, plastic powder is poured into molds and then placed in the ovens.
While heating, the mold is rotated slowly on two axes, and gravity is used to stick the powder to the mold walls.
The heated plastic is then cooled down slowly to prevent disfiguration.
This molding is best for making concave or hollow shapes and large products such as tubs.
It is an inexpensive process; the product formed is strong and fault-free.
The tools are to be changed after a few thousand cycles, and the method is not best for precision forming.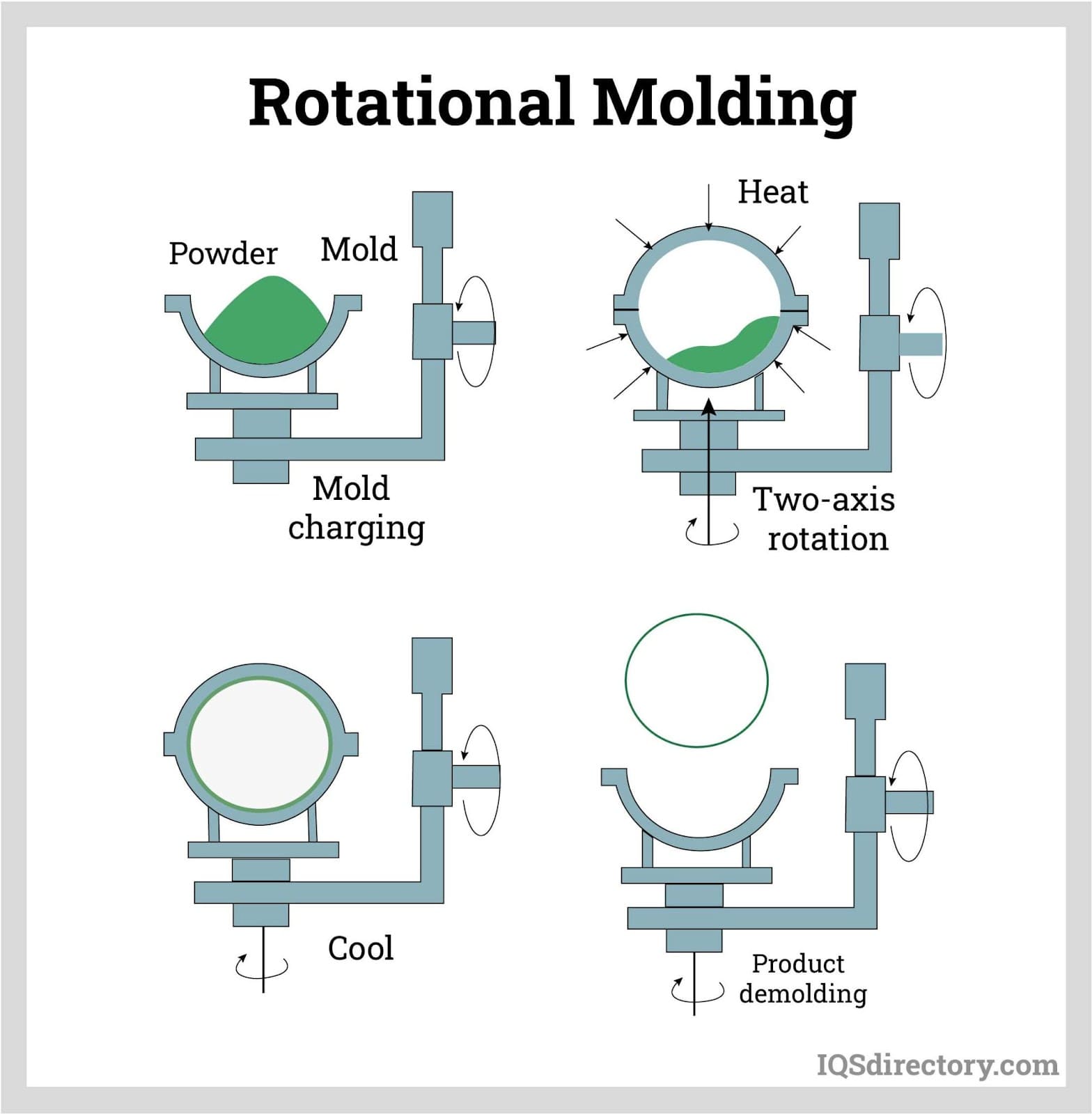 Extrusion Blow Molding
This molding is done to make inexpensive products such as disposable cups and bottles.
It is a fast process, and the tools are easy to make.
Molten plastic takes the form of a large droplet, called a parison, and is placed in a two-piece clamshell mold.
Injection Blow Molding
In injection molding, pressure is used to place the molten plastic in the molds.
It is used to make transparent plastic bottles and is easily controlled and a repeatable process.
These are not ideal for thin walls. However, these are durable and safe to consume.
Reaction Injection Molding
RIM is used in the automotive industry as it makes light-weighted parts with rigid skin.
Thermosetting plastic expands like foam on heating and fills the mold.
Production tooling is expensive for RIM.
Vacuum Casting
A master model is placed in a sealed box filled with flexible urethane or silicone.
When removed, it forms a cavity in the mold, which is then filled with resin.
The air bubbles are removed by using vacuum pressure.
These molds are not durable and will degrade after 20 or more copies.
Thermoforming
A thin or thick plastic sheet is placed on the die, and the rising temperature makes the material pliable.
It is used for prototypes of thin-walled and hollow-bodied parts.
It is used to make plastic cups, lids, boxes, and plastic packaging.
Compression Molding
The raw material used in this process is pre-heated and placed in the cavity.
A cap or a plug is used to cover the die, and heat and pressure are applied.
It is used to make rubber keypad switches, gaskets, and o-rings.
Application of Plastic
Plastic material is used in home items such as vacuum cleaners, television, sound systems, chairs, tables, appliances, electronics, utensils, automobiles, space stations, pipes, gaskets, cladding, food packaging, food containers, medical equipment, children safety gears, and many more.
Choosing the Proper Plastic Forming Company
For the most positive outcome when choosing a plastic forming company, it is important to compare several plastic forming businesses using our directory of plastic forming companies. Each plastic forming company has a business profile page that highlights their areas of experience and capabilities, as well as a contact form to directly communicate with the business for more information or request a quote. Review each plastic forming business using our proprietary website previewer to get an idea of what each company specializes in. Then, use our simple RFQ form to contact multiple plastic forming businesses with the same form.
Plastic Forming Informational Video